Summer School AKN 2017 – US
Managing Legal Resources in the Semantic Web – (brochure PDF)
cirsfid.lexus@unibo.it or lexus.cirsfid@unibo.it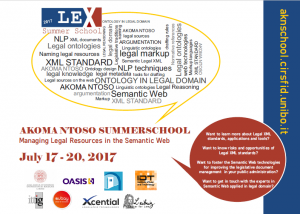 July 17 – 20, 2017 – full immersion 4 days!

Rationale of the Summer School

Good management of legal documents involves at least five aspects:

Drafting methods, to improve the language and the structure of legislative texts;
Legal XML standards in particular Akoma Ntoso, to improve the accessibility and interoperability of legal resources;
Legal ontologies connected with Akoma Ntoso, to capture legal metadata and legal semantics;
Legal Knowledge extraction using natural language techniques;
Workflow models, to cope with the lifecycle of legal documents.
The summer school will address all of these aspects, through multi- and interdisciplinary competences. It will provide and integrated approach to the management of legal documentation, as a core aspect of legislative and administrative innovation. Akoma Ntoso tools for supporting the legal and parliamentary document management.